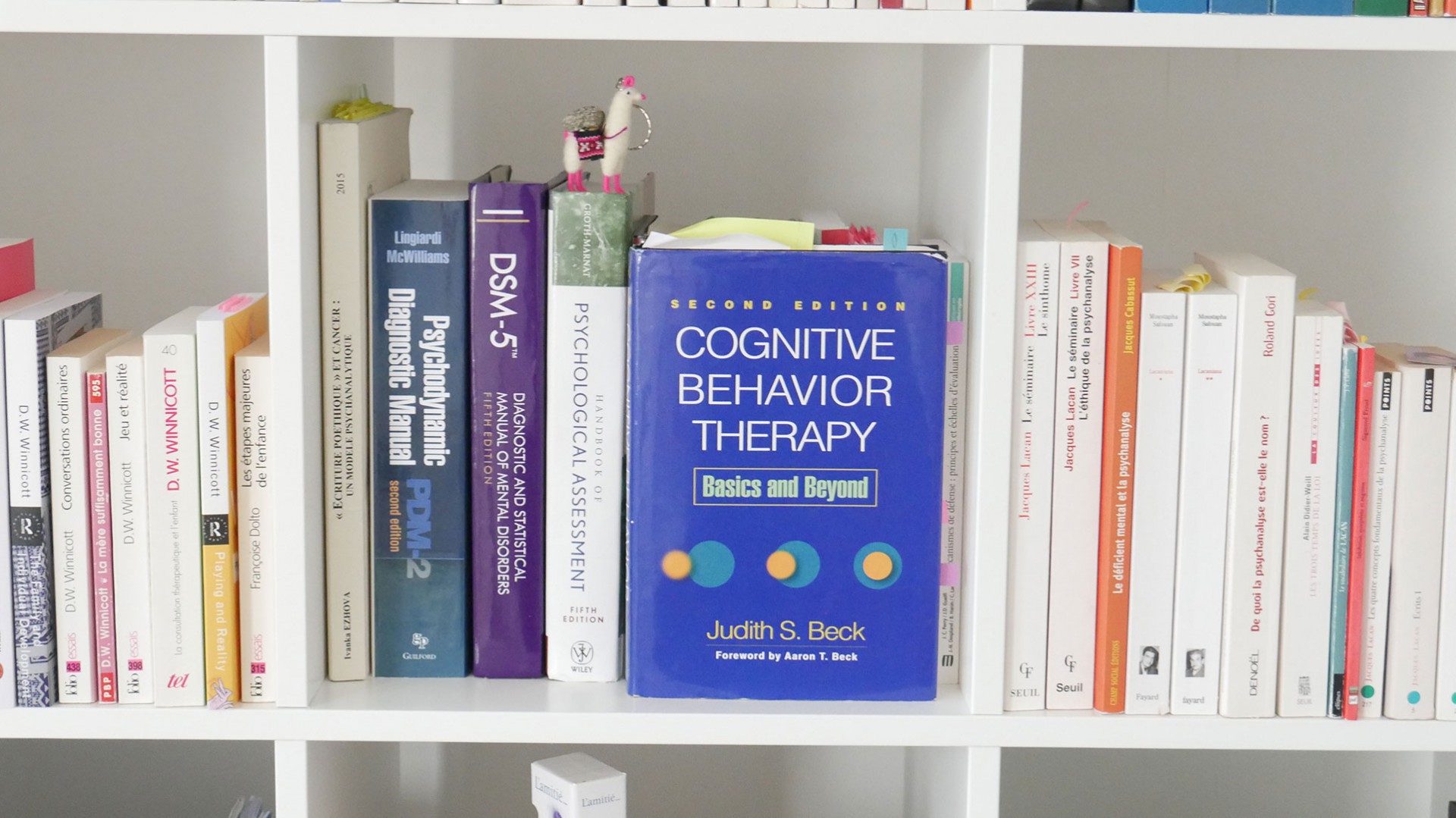 Cognitive Behavior Therapy : Basics and Beyond by Judith Beck
When recently surfing on the web, I came across the following quote : 'Trying to understand the behaviour of some people is like trying to smell the colour 9'. You know what? I strongly disagree. You are perfectly able to understand people's behaviours, as well as your own behaviours. American psychologist Judith Beck gives us a detailed guide for this in her epic book 'Cognitive Behavior Therapy : Basics and Beyond' that you see on the photo above that I took in my private library.
This is a must-have manuscript that every psychology student and established practitioner need to have in their private libraries. It gives us a detailed theoretical and practical perspective on the fundamentals of Cognitive Behaviour Therapy (CBT). The text is accessible and easy to understand. Judith Beck proposes a step-by-step guide on how to engage patients, develop a case formulation, plan and structure sessions.
The author uses a single case example (the treatment of Sally) to demonstrate how to conceptualise patients according to the cognitive model, conduct an initial session, structure therapy within and across sessions, incorporate homework, and apply specific cognitive and behavioural techniques. You will appreciate Beck's emphasis on formulating cases, diagnosing problems during therapy sessions, tailoring techniques to modify core thought processes and beliefs, and underlying assumptions. Each chapter also proposes an overview of the key learnings organised in boxes, enabling the reader to easily check specific information they are looking for. In addition, the author gives us strategies for troubleshooting difficulties and preventing relapse, illustrated through case examples and vignettes.
The bonus is that readers can download a range of clinical tools, including training programmes, therapist and patient materials and referrals, and assessment materials. I particularly recommend Beck Depression Inventory II, Beck Depression Inventory – fast screen for medical patients, and Beck Anxiety Inventory that I am currently using in my clinical practice. They bring quality and a great structure to both my clients and myself.
I am a huge supporter of Judith Beck's work and I recommend this book to all students and professionals.
If you wish to learn more about how practitioners apply Cognitive Behaviour Therapy techniques to their clinical work with clients, check my articles on the benefits of CBT here and here.
After the Coronavirus outbreak, the use of online therapy will increase. As you know, practising online therapy is one of my specialities, as all my clinical practice is digital-based. You can learn more about online therapy here.
If you are a national or international student or practitioner and you are looking for information regarding education, training and practice related to Clinical Psychology, do not hesitate to get in touch on info@angelpsychology.com
With warm wishes,
Dr Ivanka Ezhova (check biography here).
---